Note: This is an old page. Truck is not for sale at the moment. I sold the camper but kept the truck and still use it every week or two. Just leaving this page up for nostalgia sake.
I'm (was) selling my 2000 Ford Excursion, 2 wheel drive, with a 7.3L Powerstroke diesel engine.
Price (was) $9,000. No owner-financing. I have title in-hand. You can drive this truck away today. If you're interested, please use the contact form on this website.
The Excursion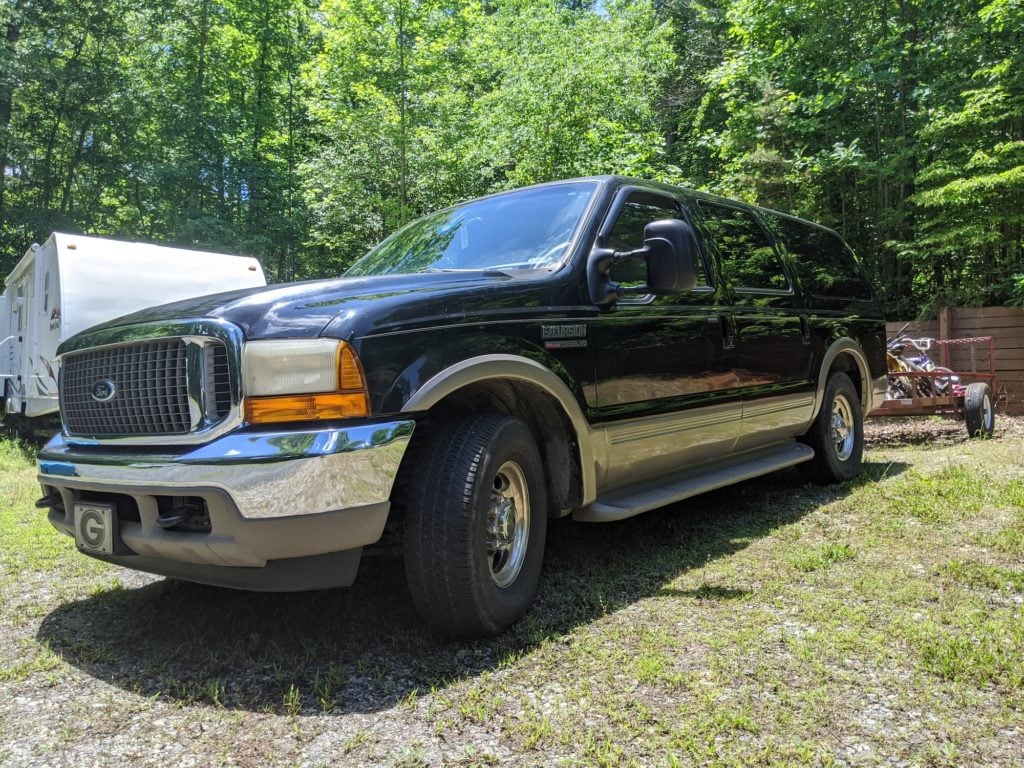 2000 Ford Excursion
7.3 L Powerstroke diesel engine
187,5xx miles (as of 7/1/20, vehicle is driven sparingly)
2 wheel drive
Condition: mechanically sound, many fit-and-finish issues typical of a vehicle of this age.
This vehicle has the legendary 7.3L powerstroke engine and has pulled the travel trailer you see on this page several thousand miles. We bought the truck in early 2014 with about 80,000 miles on it, and have put over 100,000 additional miles on it. It's been extremely reliable during that time.
This vehicle is a workhorse. Yes, it is rough around the edges–come on, it's 20 years old–but I'd not hesitate to jump in it tonight and head across the country with 10,000 lbs in tow behind it.
If you're looking for a 7.3L powerstroke Excursion with less than 200,000 miles that has never been chipped or otherwise abused. Look no further.
The Good
I literally love this truck. I'll be a little mad and a lot sad when you buy it.
This truck is a beast. It pulled our travel trailer from Texas to Maryland to California to Washington state, and back again. Runs great, extremely reliable, never chipped or abused, under 200k miles (how many of these are even left??).
Runs and drives great. Includes Tekonsha trailer brake controller. No rust on the frame. Engine and transmission are strong.
The Bad
This truck is 20 years old and has 20-year-old-truck problems.
The back doors have to be locked/unlocked manually.
One of the back windows won't roll down, the other has to be controlled from the driver's door.
The back seats are ok, but the front seats need seat covers.
The paint is ok on the sides, bad on the hood, and worse on the roof (see photos below).
The air conditioning works, but gets warm in the front after an hour or so but stays cool in the back. Probably a simple fix.
Other miscellaneous fit-and-finish issues typical of a 20 year old vehicle.
The Verdict
If someone was willing to put the money into it, this 2000 7.3L Excursion could be restored to prime condition–the bones are solid.
On the other hand, if you just want a 7.3L in good mechanical running order to haul a crew to a jobsite with a trailer in tow, or if you want to load up your kids and haul a camper across the country, it's ready to go.
Excursions with the 7.3L diesel engine under 200k miles simply cannot be found anymore. Especially ones that haven't been chipped or otherwise modified or abused in any way. There is someone out there looking for this truck. It would be a perfect project vehicle for someone who wanted a solid base on which to build a really great Excursion.
Cash only. No owner-financing. No trades. I have title in hand.
If you're interested, please send me an email. The truck can be seen in the Demorest / Clarkesville area.
Travel Trailer
Note: SOLD! Not available. Sold on June 9, 2020. Leaving it up because this camper was our home for about 3 years and I may want to come back and enjoy looking at these pictures from time to time.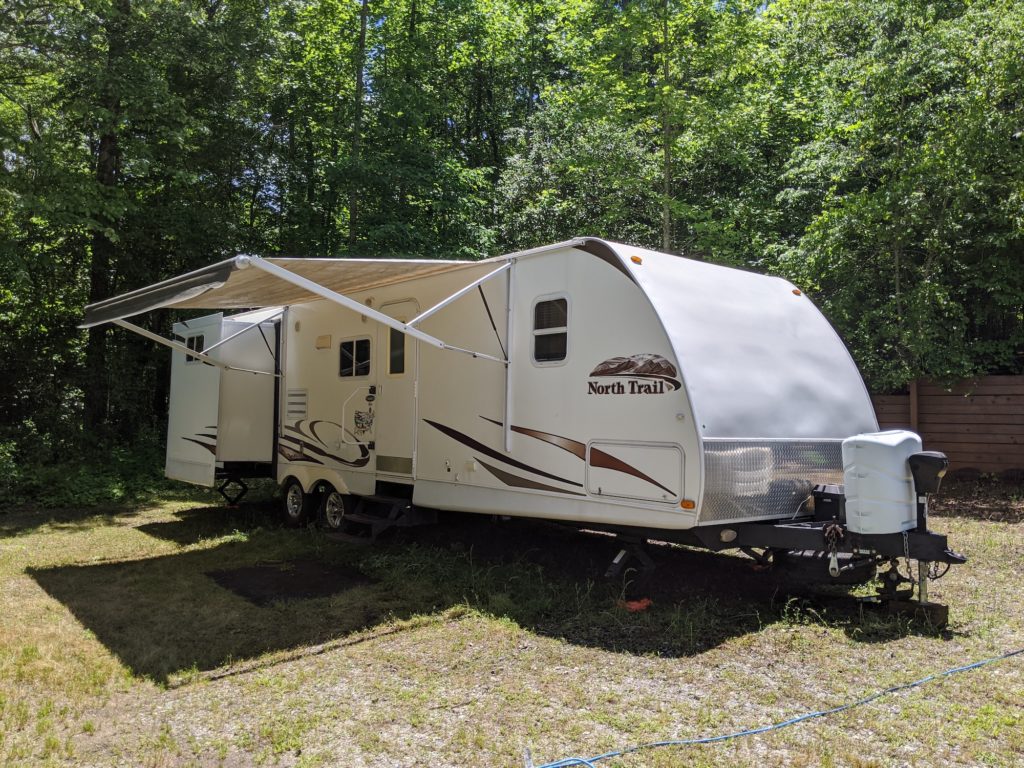 2010 Heartland North Trail 32QBSS
35′ long
7000 lbs dry weight, rated for 8600 lbs (GVWR).
We purchased this camper for $18,000 in 2014. The outside looks pretty comparable to the day we picked it up. The inside is unrecognizable.
This camper has kept us dry and cool or warm (as necessary) in 27 different states over the last 6 years. In order to make the camper work for our family, we made quite a few changes:
We removed the dinette and couch in the main slide.
We removed the dinette and couch from the bunk room and built in two additional bunks.
We closed up the window that looked into the bunk room and installed a pantry in its place.
We repainted the entire thing.
Just look at the pictures. You'll see. We basically remodeled the whole thing.
Photos of Current Condition
The following photos were taken on Saturday May 30, 2020 and represent the current condition of the vehicle and trailer.
Let's start with the Excursion.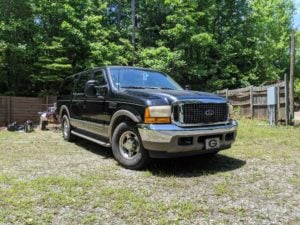 Now here's the camper: