This past weekend I ran the Rabun Half Marathon – a low-key trail race that eschews swag and finisher awards in favor of a low price tag and relaxed atmosphere. It's 11ish miles long and includes over 2700 ft of vertical gain, and the same amount of vertical descent.
The course is beautiful. Highlights include 360 degree views from the fire tower atop Rabun Bald (featured image), the second highest point in the state of Georgia, and Holcomb Creek Falls (pictured below).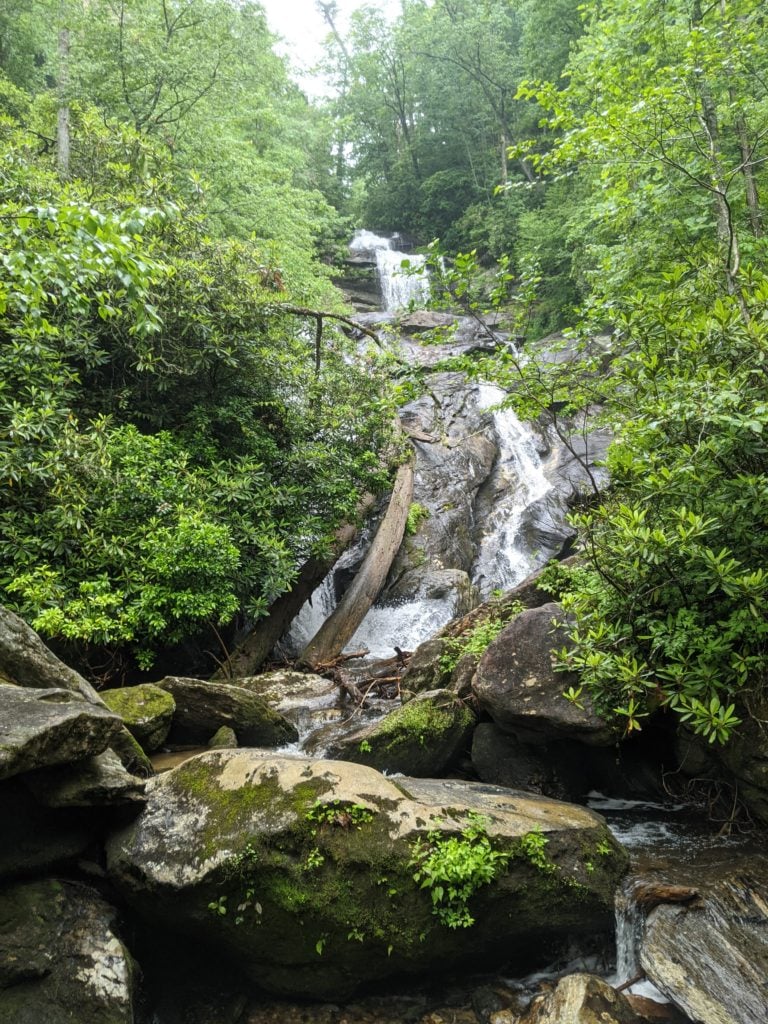 If you run at least semi-regularly, the Rabun Half Marathon is the sort of event that you can add to your calendar months in advance and train for, or decide to run last minute and just show up cash in hand. I had a great experience running the Rabun Half Marathon and would happily recommend the race to anyone interested in a challenging but somewhat shorter distance trail race.
How My Race Went
My race day started at 4:30 AM. The race itself was slated to start at 7 AM. However, I had more than an hour to drive to get to the starting line, and check-in started at 6 AM. I also had one quick errand I had to run before heading out of town, so I had to allow a few extra minutes. Ultimately, I arrived at check-in at about 6:15 and had plenty of time to check in and warm up before the race kicked off at 7 AM.
There were over 60 registered runners, but only 51 made it to the starting line. Just before 7 AM, the race director gathered all the runners at the starting line, shared a few words of encouragement, and the race was on.
Starting Too Fast
Before the race I had reviewed the course elevation profile and concluded that the first 4 miles should be fairly runnable. So when the race began I started off at an aggressive clip. In retrospect, I started way too fast. While mile 3 was quite runnable, miles 1 and 2 had a lot more elevation to them than I had bargained for, and I definitely overspent my energy reserves in those first two miles.
I never fully recovered from my fast start. By the time I reached the summit of Rabun Bald, at around the 6 mile mark, I had climbed nearly 2,000 vertical feet and I was spent.
Thankfully, the next 3 and a half miles were mercifully downhill. That gave my respiratory system a chance to recover at the expense of my quads. I did also take a spill right as I came off the summit of Rabun Bald. Thankfully, aside from a few minor scrapes, I escaped uninjured.
Holcomb Creek Trail Misery
The trail off of Rabun Bald eventually wound it's way down to a forest service road and the race course followed the gravel road until it reached Holcomb Creek Trail. The trail was about a mile long, and the first half was a nice downhill trip to Holcomb Creek Falls (pictured above).
The second half of Holcomb Creek Trail was pure misery. It was continuously uphill and steep enough at various points that I was leaned over so far I was nearly on all fours. That would have been no big deal if it weren't for the fact that I'd pushed really hard for the entire race up to that point, keeping my heart rate near maximum for the prior 9 miles. I managed to keep moving forward on Holcomb Creek Trail, but it was slow going.
When I reached the end of Holcomb Creek Trail the finish line was in sight.
Takeaways
It's really hard to start a race slow, but it's something I need to force myself to do. I suspect that if I had taken it easier during the first two miles I would have more than made up for the additional time during the portions of the race that were more runnable. I suspect a more conservative approach right out of the gate would have allowed me to shave perhaps 5-10 minutes off my overall time.
This fall I'll be running the Sky to Summit 50k. That race covers all of the same ground and quite a bit more. Having covered these trails once I feel a little better mentally prepared to face the challenges of that upcoming race – at a minimum, I'll be aware how steep the climbs are going up Rabun Bald and Holcomb Creek Trail and be able to pace myself accordingly.
The Rabun Half Marathon was very well run. It was exactly what it was billed to be: relaxed, low-key, challenging, fun. It's a great way to start the summer and I particularly like that it's held on Sunday, which makes it a lot easier for a parent like myself to participate. I fully expect to be back again next year.