I live in between two small towns in northeast Georgia. About 5 minutest to the north is Clarkesville, and about 5 minutes to the west is Demorest. I live in unincorporated Habersham county, but my mail is delivered by the Demorest post office, so I have a Demorest address.
When I run, if I want to run more than 2 or 3 miles, I'll go to Clarkesville, Demorest, or Currahee Mountain in the Lake Russell WMA (15 minutes east).
For my run today, I picked Demorest. Hwy 441 runs north-to-south through the middle of the town. When you drive into town on 441, you drive downhill. When you drive out of town on 441, you drive uphill. From downtown if you head either east or west out of town, you'll go uphill.
Demorest is a very small town that sits in a bowl. The result is that if you run in Demorest, you can't avoid running hills.
My Run
I parked near the Piedmont College amphitheater today. From there I ran a meandering ~5 mile route at a relaxed 10-min-per-mile pace.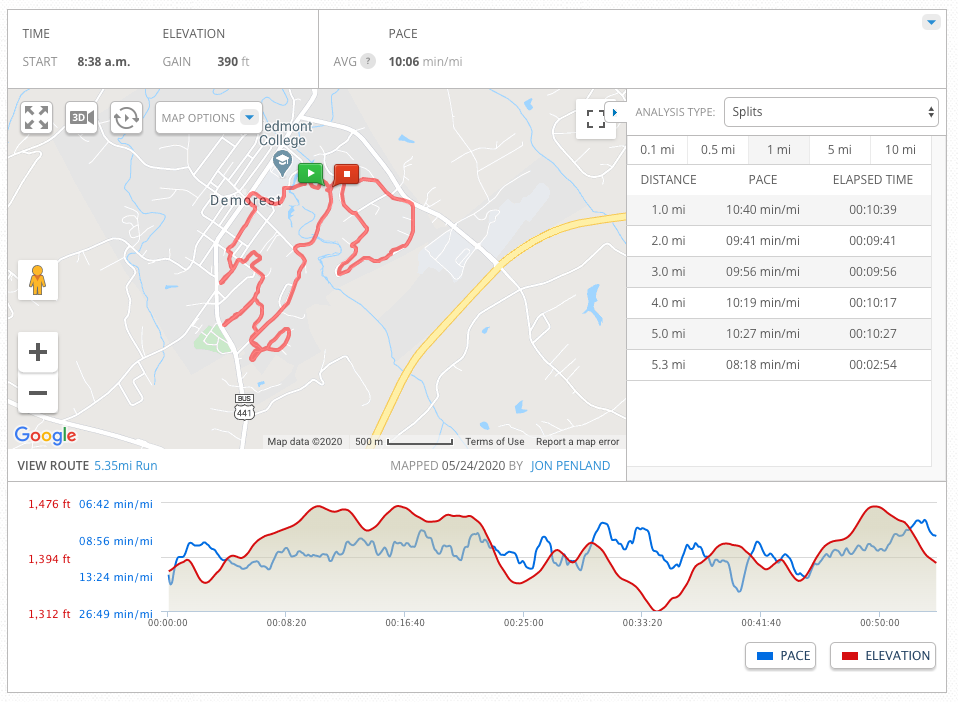 The last 3 weeks I've run at Currahee. So today's run was all about getting in some quality mileage that was a little less risky than the gravel road and severe elevation changes at Currahee.
Mission accomplished. Demorest is a sleepy southern town that's a joy to explore by foot.
Featured image by Arek Adeoye on Unsplash