My yard is a mess and it's bothering me.
Our house is only 13 years old, but has had five owners in that time.
The builder, who built the house for himself and then lost it to foreclosure in 2012
The bank, who foreclosed on the house
The couple, who bought the house out of foreclosure in late 2012 and put a lot of money into landscaping
The single guy, who bought the house from the couple in 2017
Us, who bought the house in early 2020
Steps 1 and 3 are the steps at which all the landscaping was done, and let me tell you, there's a LOT of landscaping.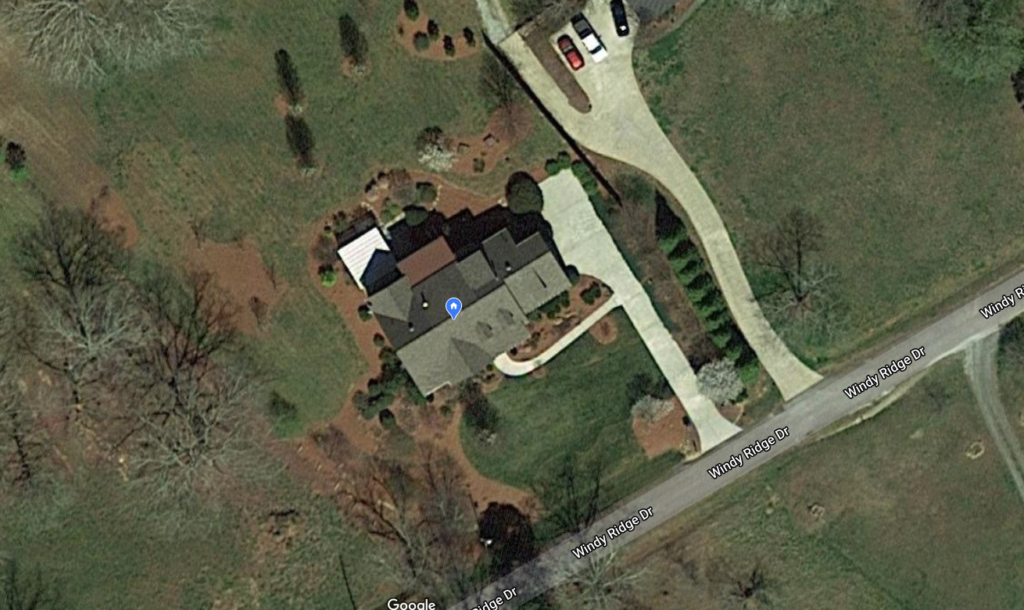 Take a look at that arial shot. You can see brown-colored areas on both sites of the driveway, surrounding the house, covering the entire left side of the front yard, and then in various patches around the backyard. Every one of those areas is a place where plants have been planted, the grass cleared away, and pine straw put down to control the weeds.
At one time, the yard was truly stunning. Five years ago, more or less, this yard was unreal.
As best I can tell, owner number 3 was primarily responsible for really getting the yard into phenomenal shape. Owner number 3 was a retired couple and my theory is that they had time and financial resources, and their yard was their hobby. They made it amazing.
Unfortunately, the owner just before us did not have the same enthusiasm for the yard. As best I can tell, he did hire someone to refresh the pine straw once or twice while he lived here, but aside from that, the landscaping was basically neglected. If you have that much landscaping to deal with and you let it get out of control, you really have your work cut out for you getting it back under control.
The Yard Needs Attention
Since we bought the house we've been putting a lot of time into a lot of projects. We bought the house in late February, and since that time we've never stopped working on projects around the house. However, the projects we've been focused on have been about getting the inside of the house fixed up and to our liking. We've done a lot of painting, built some situation-specific pieces of furniture, bought, assembled, and arranged a lot of furniture (beds for all the kids, new couch, shelves, etc), replaced several light fixtures, and so forth.
We have spent some time on the yard, but not a lot. Right after we bought the house we did trim back some bushes that had grown out of control, but aside from that and cutting the grass, our attention has been on getting the inside livable and organized.
It's only been in the past month or so that we've turned our eye to the landscaping. Toward that end, I bought a load of mulch and a bunch of weed paper and two weeks ago started in on the work of cleaning up out-of-control landscaping.
When you pull up to my driveway, you can see the efforts of my labor on the right side of the driveway, and on the left you can see how things look where I haven't cleaned them up yet.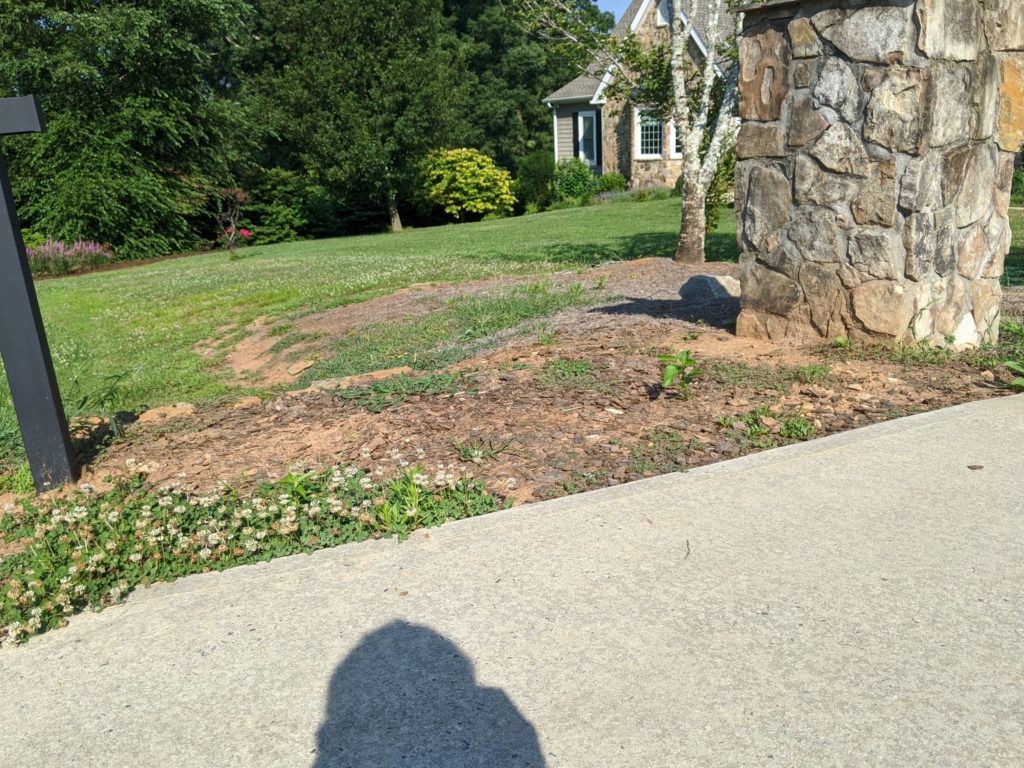 Looks pretty great once weeded and mulched, right?
I'm going all out when I weed and mulch the beds: commercial-grade weed paper and a full 3 inches of aged oak mulch. If you're going to do it, do it right!
Doing it right is really my only option. Doing it right means that the mulch and weed paper are actually sufficient to keep weeds from growing. Thinking about how much area I'm dealing with, the only way I'm going to keep this yard in any sort of decent shape is if I don't cut any corners. In the long-term, this feels manageable. Once the entire yard has been done, all I should have to do is add an inch of mulch every year and keep everything trimmed. That will still be a lot of work, but it's manageable.
The challenge is getting caught up.
Right now, I'm at a standstill. I bought my first load of mulch from one specific supplier. I then scheduled them to deliver another load–this time, a load three times as large as the first; enough mulch to do all of the space that needs mulched in the front yard. They called me the day they were supposed to deliver to let me know they'd had an equipment breakdown. That was over 2 weeks ago. They finally called me to reschedule on Friday. My new delivery date? More than 2 weeks from now.
So now I'm buzzing with energy, wanting to weed, put down weed paper, and spread mulch. Instead, I just have to sit and wait and watch the weeds grow.
Featured image by Nanda Green on Unsplash