It's Saturday. I've already gone running followed by 2 donuts and 2 cups of coffee for breakfast. I need to spend about an hour working on some stuff for our local Little League, but aside from that I don't have any real plans for the rest of the day.
Sounds like the perfect start to a Saturday if you ask me.
My run this week was basically a reprise of last week's run with about a mile added to the uptempo portion of the run. Last week, my target was to run 1 slow mile, 3 fast miles, and then 1 more slow mile. This week I pushed the target up to 1 slow mile, 4 fast miles, 1 slow mile.
For my slow miles, I wanted to maintain around a 10 minute mile pace. For the fast miles I wanted to average under 8:45 per mile. Here's how my run went: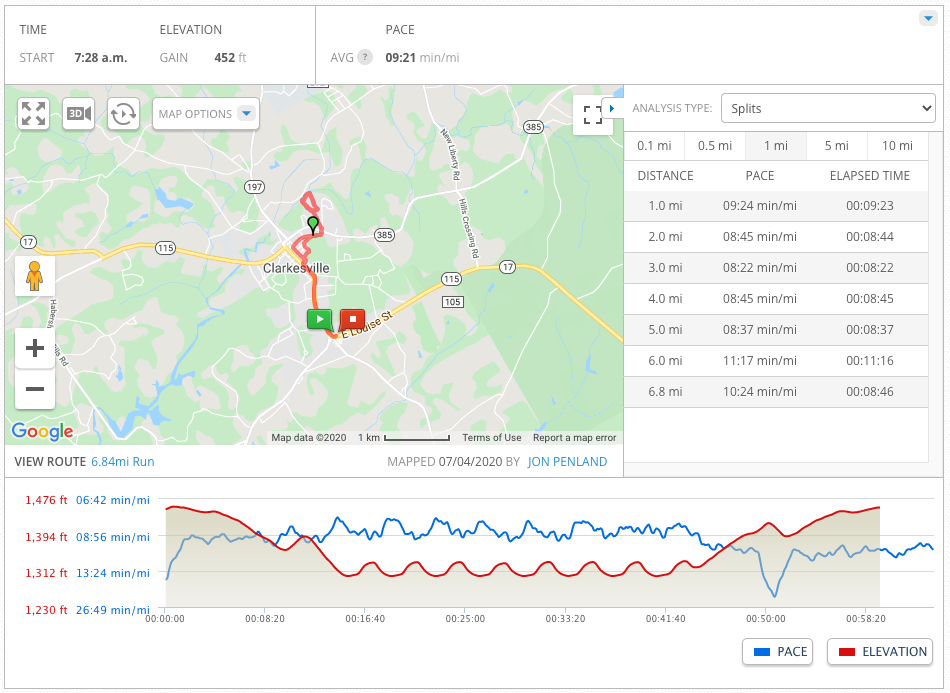 As you can see from the splits in that image, my first mile clocked in at 9:24. Over the next four miles I maintained an average pages of 8:37 per mile. I then headed back to the van and maintained a pace around 10-11 minutes per mile for the cool-down portion.
As you can tell from the pace chart, at around the 50:00 mark I got stuck at a crosswalk again just like last week which definitely added a good 15-20 seconds to mile 6. I'm also not sure what happened to the elevation chart towards the end of my run. I think the app I use to track my runs must have glitched.
I'm really happy with how my run went this morning. I could definitely tell I pushed harder this week than last week because the cool-down run back to the van was considerably more challenging than it was last week.
At 1.8 miles, the cool-down portion was also considerably longer than last week (1.1 miles). That happened because I stayed at the Clarkesville Greenway until I had completed the entire 4 mile uptempo run, whereas last week a portion of my last uptempo mile was actually completed while on my way back to the van.
My legs felt great. I had no joint pain, though I could definitely feel that my muscles were being pushed.
Today's run mark's the third week in a row that I've switched up my weekly long slow run into what Run Less Run Faster would consider a "quality run." The plan is to do the same for one more week and then, if all goes well, to add a second quality run to my weekly run schedule. Assuming all goes according to plan, I'll run twice per week for four weeks before adding in the third weekly quality run that's part of the Run Less Run Faster running program.
Photo by Jenny Hill on Unsplash