I really love my house. When we bought our house about two years ago, we reached to the very top of our budget (actually a bit above our intended budget) because we loved the house that much. I don't regret that decision at all. The location is perfect for us, the house fits our large family, and I just genuinely like the way the house looks, feels, and flows.
This house should work for us forever. It's big, but it's split between three floors: a main floor, a second story, and a basement. Today, we use pretty much all of it. The boys fill up the upstairs, my wife and I and our two daughters are on the main level, and the basement is used for storage, as a workout space, and as a workshop for my DIY projects. One day, the kids will be grown, and when that day comes the house will still be perfect for us. The main level consists of a living room, dining room, kitchen, laundry, master bedroom, office, and guest bedroom – a perfect retirement setup – while the upstairs will be available for frequent visits from kids and (gulp) grandkids.
If there's one feature of my house that stands out when you first pull up it's the lions. As you can see in the photo up top, at the end of my driveway are two stone pillars on top of which sit small lions.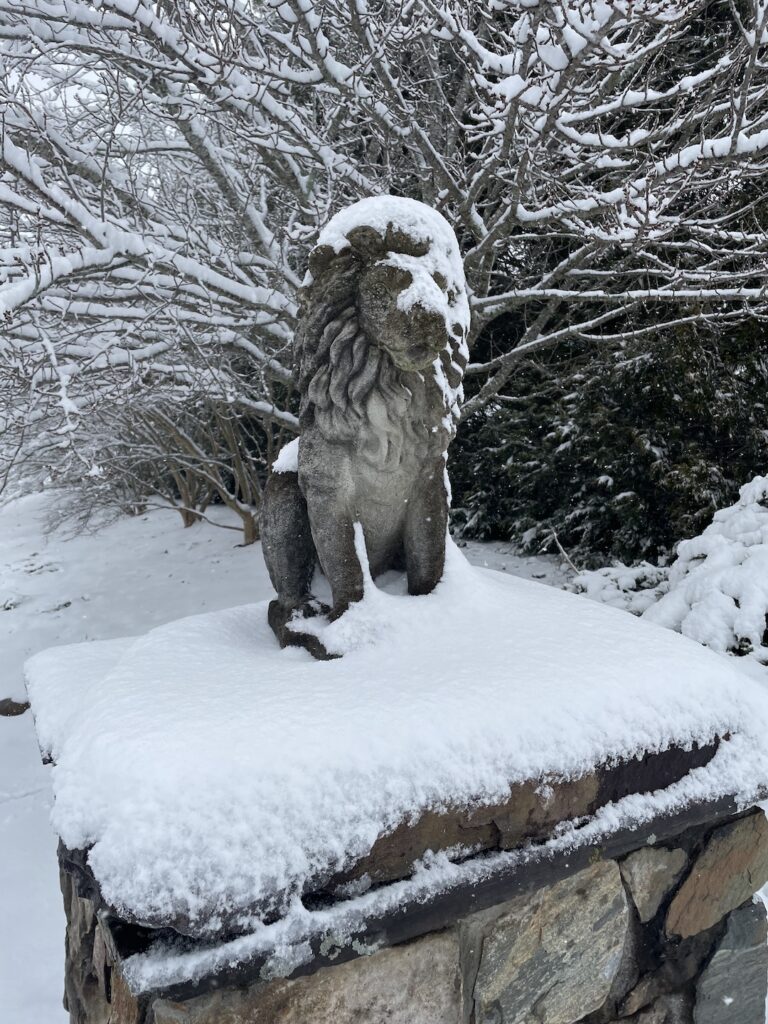 The thing you should know is that the family who built this house had the last name "Lyon". So for them, the lions were a fun play on words. "Come on over! You'll know you're at the Lyon's when you see the lions!" However, without the benefit of that play on words, today they just seem a tad pretentious and over the top. At the same time, if I'm honest, I kind of love the lions.
There's just something about these sentries at the end of the driveway that makes me smile. Yes, they're pretentious and a bit ridiculous, but they're also fun.
It's always been my intent to decorate these lions seasonally – Santa hats in December, American flags in July, that sort of thing. That would really drive home how I feel about these lions and I need to get on the ball about it. Yes, they're a bit over the top and pretentious, but if you can be a bit self-deprecating about it all then it comes off as all in good fun.