Someone should organize an out-and-back marathon that starts at Lake Russell, summits Currahee Mountain at the midway point, and ends back on the banks of Lake Russell. Someone should do it, but not me.
I'm preparing to run the Snowbird Challenge in Seneca, SC on January 23rd. In anticipation, I've been stair-stepping my long runs up by a few miles every other weekend. This weekend called for my longest run yet, a 20-ish mile long run through the Lake Russell WMA.
Plotting the Course
Lake Russell WMA sits between Lake Russell on one end and Currahee Mountain on the other. As a result, if you take the most direct route between the two, you effectively bisect the WMA.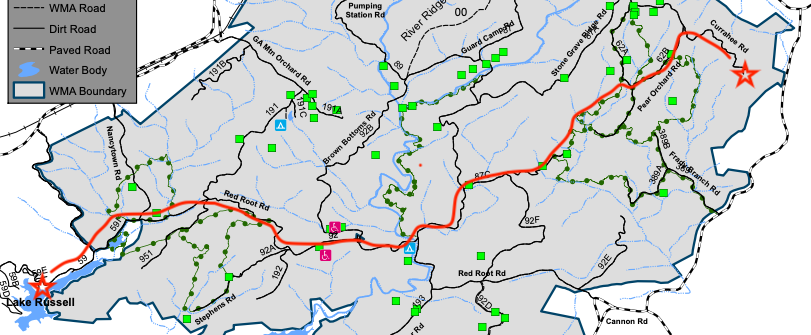 There's something profoundly satisfying about running the length of the WMA. As a result, completing this run has been on my mind for several months as my runs within the WMA have increased in distance over the last few months.
Committing to the Challenge
With the Snowbird Challenge two weeks away, this weekend I needed one last long run before cutting down on my mileage and resting up in advance of the race. I mapped out my planned route on Strava and the estimated distance was between 20-21 miles, my target distance.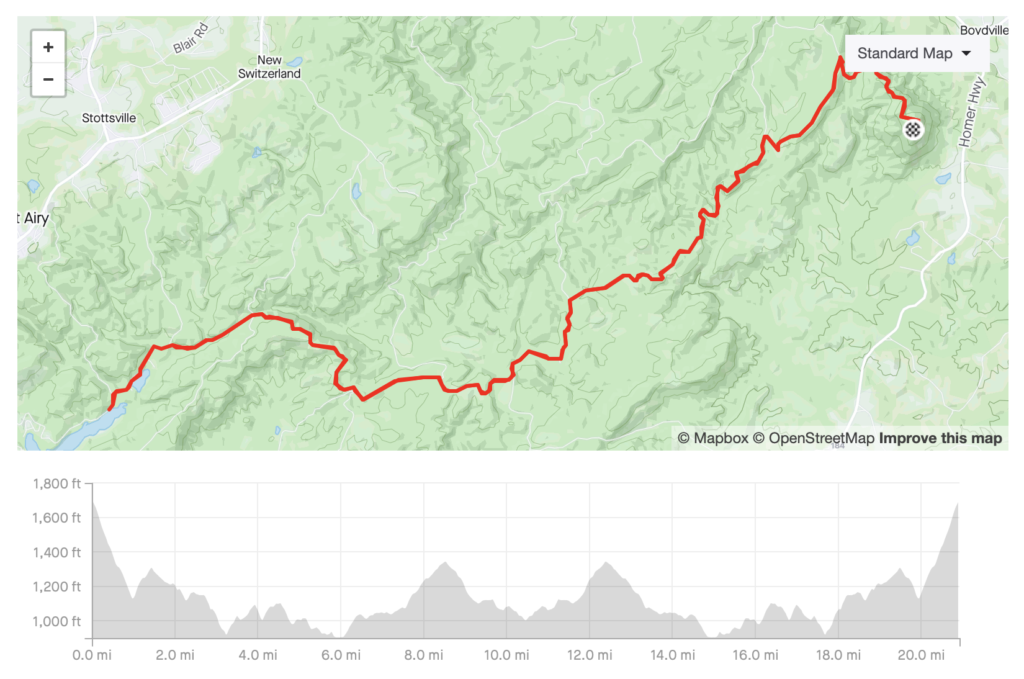 The one wrinkle in my plan was that by starting at the top of Currahee I'd also have to end at the top of Currahee, and that's a hike I knew I wouldn't want to make with 20 miles on my legs. The obvious solution would have been to start at the other end and put Currahee Mountain in the middle, but I'm not familiar with that end of the WMA. I felt good about finding Lake Russell from Currahee Mountain, but was less sure about things working out if I went at it from the other direction.
On Saturday morning, I settled the issue by starting on Latham Rd, about halfway down the road that climbs Currahee, rather than at the top of Currahee. My thinking was that I could still tack the climb up Currahee on to the end of the run if I was feeling up to it, but I wouldn't have to tackle the climb if I was not feeling up to it.
How Did it Go?
I started out on Latham Rd (or Nathan Rd, or Pear Orchard Loop, depending on your mapping software), at the intersection with Col Robert F Sink Memorial Trail (the road that climbs Currahee). I followed Latham through it's various trail and road iterations until it finally ended 4 miles later on Guard Camp Rd (or Sellers Rd) which I followed down to Farmers Bottom.
At Farmers Bottom, roughly 5 miles into my day, I turned onto Red Root Rd which I followed all the way to Nancy Town Rd, at which point I was less than a mile from Nancy Town Lake and Lake Russell. I then ran along the bank of Lake Russell for a few minutes until I reached the main parking area, where I turned around and headed back the way I'd come.
I basically retraced my steps until I had reached mile 18. At that point I had a choice to make. I could continue the way I was going and be back at my van right at 20 miles. Or, I could take a right on the Pear Orchard Loop trail with the intent of heading up Currahee.
At that point I knew two things:
I had no business heading up Currahee. My legs were done.
I would feel like I had quit early and not be satisfied if I didn't tackle Currahee.
So I took the right on Pear Orchard Loop with the intent of heading up Currahee.
From here, the splits tell the story. I. Was. Spent.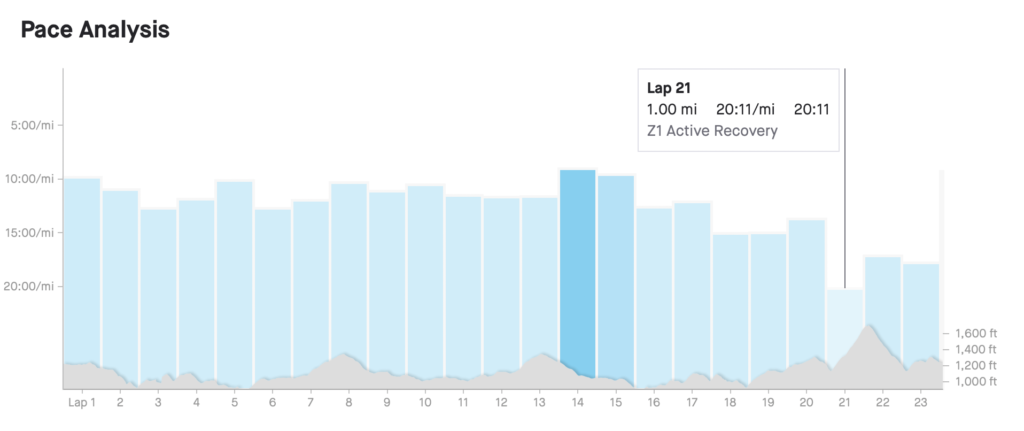 At mile 18 I went from logging 9-12 minutes miles all the way down to 15 minute miles and never really recovered. Mile 21 was the climb up Currahee and I didn't run a single step of that mile. When I reached the top, I didn't dare stop, I just kept right on walking and headed back towards the van.
On the way back down the mountain I attempted an easy jog several times, but my legs were shot and I worried that I would be risking injury by attempting to run down the steep descent on legs that wouldn't do as they were told. In those last two miles I probably ran a half mile in total, and otherwise hiked as quickly as my tired legs would carry me.
Pictures
I took a few pictures during the first half of the run. When I reached Lake Russell I put my phone away intending to pull it back out when I reached the top of Currahee. However, when I finally did make it Currahee I was so spent it never crossed my mind to take a picture. You'll just have to trust the GPS data that I did in fact make it to the top.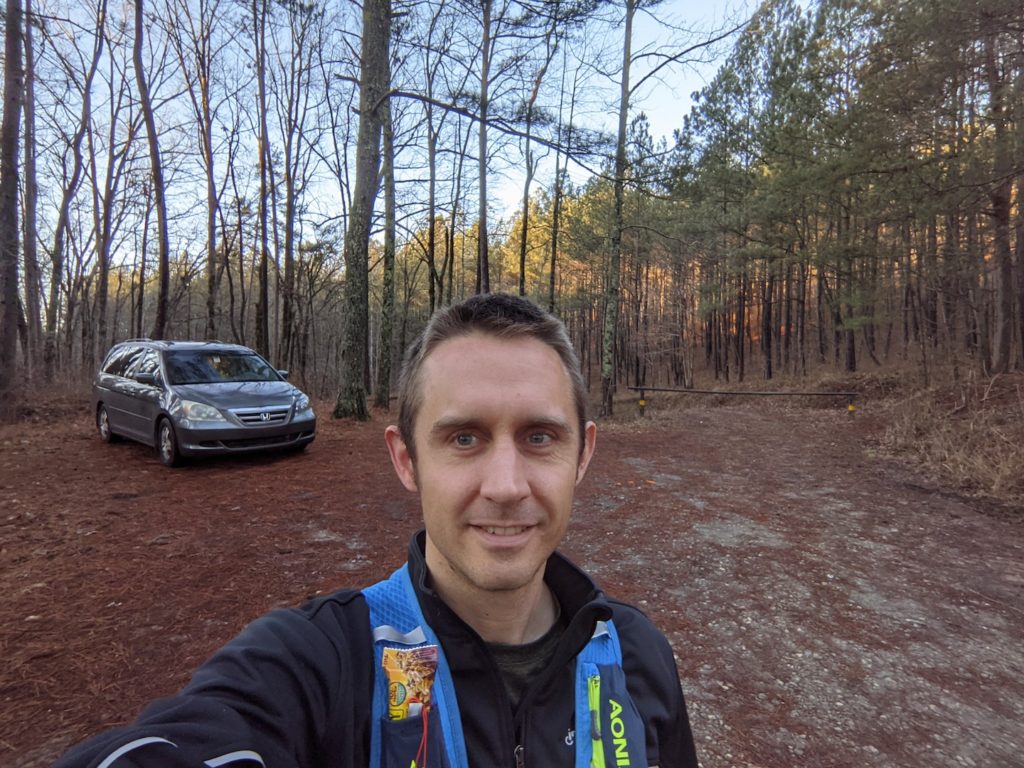 What's Next
For the next 2 weeks I'll take it pretty easy. I'll log easy ~4 mile runs during the week and a ~6 mile run next weekend. The Snowbird Challenge is on January 23, 2021, and my goal is to arrive at that date with legs that feel fresh and ready to run.
I'm already planning my next long run, though. There's a lot of the Lake Russell WMA I haven't explored yet.