This morning I finally stopped and took a picture in Clarkesville where I run every Saturday morning. This post's featured image shows the sidewalk leaving the Ingles parking lot as well as the front of my van. This is where my run has started and ended every Saturday morning for the last several weeks.
My Run This Morning
In contrast to last week, I felt great this morning. I practically sprinted out of the gate and nearly turned in a sub-9 minute warm-up mile. Bear in mind that the first mile of this run is entirely downhill, but all the same, last week my first mile was a real struggle and took me over 10 minutes.
Alas, the lactate threshold doesn't lie, and my fast miles, while solid, weren't record-breaking.
Still, it was a great run. My legs felt strong and I ran an average of 21 seconds per mile faster than I did last week. When you consider that I maintained that advantage over 6+ miles and that I actually ran a faster single mile last week, then you start to realize how much better I felt this week than last week.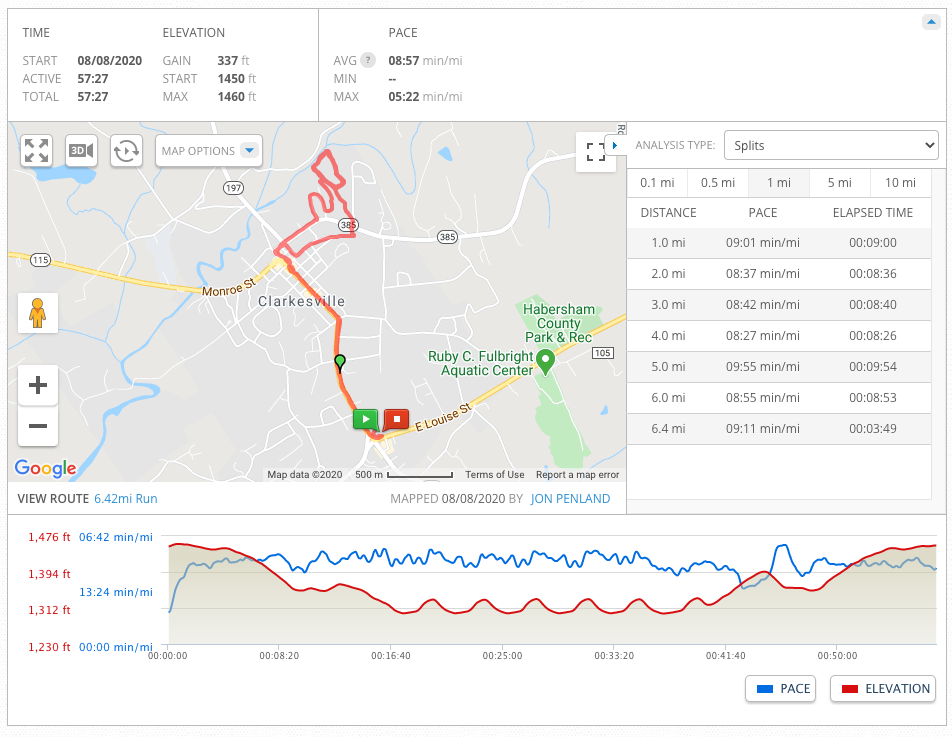 I'm actually most-pleased with the sub-9 minute mile 6 I delivered today. I haven't checked to be certain, but I do believe that is probably the first time in recent memory that I have run a sub-9 minute mile that far into a run.
It is Finished
This post is my 100th post over the last 100 days. I made it! I plan to keep right on going and publish on this site regularly, just not every single day. I've genuinely enjoyed this challenge and applaud everyone who participated and I really appreciate Roger who came up with the idea to start with!