Officially, it's "Currahee Mountain." However, for those who are from this corner of northeast Georgia, the hill made famous by Band of Brothers is perhaps more commonly known as Mt. Currahee.
Last Sunday, I ran Currahee. Apparently, one run up the mountain wasn't sufficient punishment. As this weekend was approaching I knew I'd be back.
My Run
I started my run this week from the same spot–the gravel lot at the beginning of Currahee Mountain Road. From there, I ran to the top of the mountain. This time, I ran the whole way and never stopped to walk. Once at the top I took a few minutes to stop and take pictures and then headed back down the mountain.
Once back at the parking lot I once again extended my run by heading up Dicks Hill Parkway and turning left onto Ayersville Road. From there my run diverged slightly from last week's adventure.
There's a water tower on top of the hill that overlooks Patterson Pump. This week I extended my run just a bit by heading up the gravel road that leads to the base of the water tower. From there I turned around and retraced my steps to my van.
When all was said and done I had covered 6.93 miles in 1:18:01, for an average pace of 11:15 per mile–the exact same pace I managed last weekend.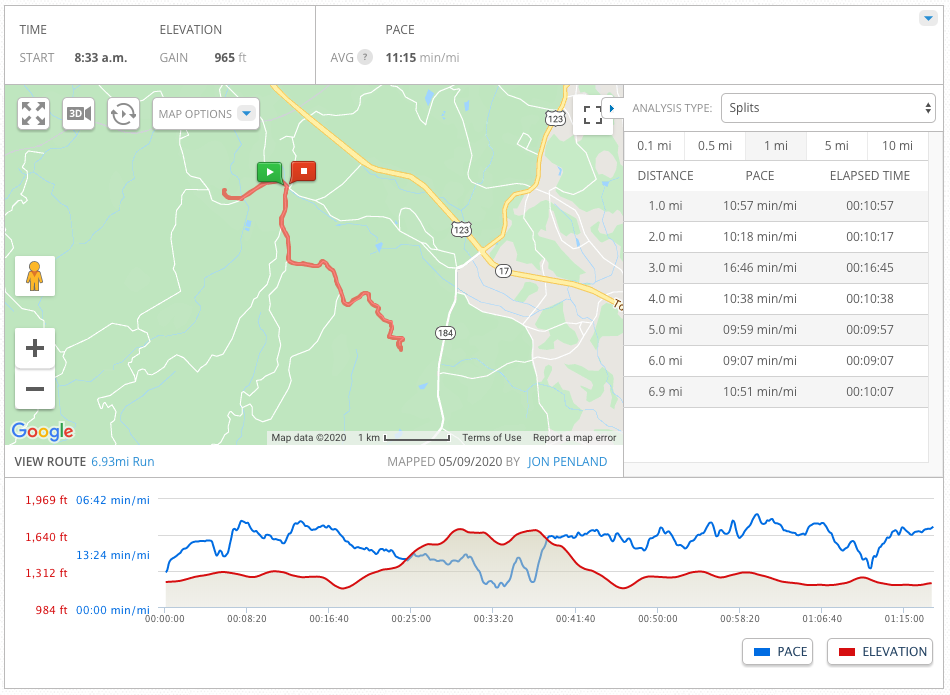 Enough about my run. Let's get into the pictures.
A Photographic Journal of My Run
I'll post the pictures in the order I took them during my run today with a short description of each added as a caption. I didn't start taking pictures until I had reached the top, so the pictures begin from the top of Currahee.