The Salomon Speedcross 6 do one thing really well: they provide the best traction I've ever experienced in the worst conditions.
Anytime I tell someone about the Salomon Speedcross I say "it's like having claws on your feet." Unfortunately, I also say, "on hard surfaces they feel like running in soccer cleats."
This is essentially the summary of my review of the Salomon Speedcross 6. They provide exceptional traction in messy, muddy conditions, but they're too firm to run very far on harder surfaces.
If you're going to be bushwhacking off-trail, or running in snow, sand, or mud, the Speedcross are going to be tough to beat. On the other hand, if you're going to be covering a variety of surfaces of varying hardness (as is the case in most trail runs) – mud, dirt, rocks, gravel, leaves, roots, and maybe even some asphalt or concrete – then the Speedcross probably aren't your best option.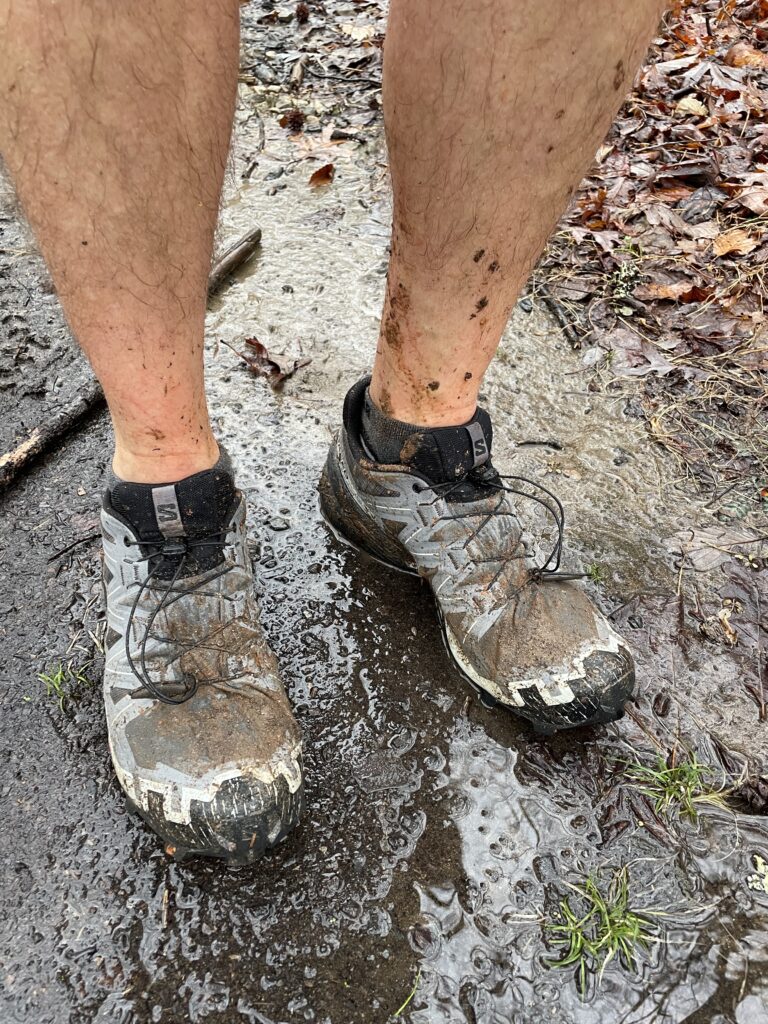 The Undisputed Champs of Muddy Conditions
I bought the Speedcross because my Nike Pegasus Trail 3's just weren't cutting it on any slippery surfaces: mud, leaves, pine needles, wet red clay. I needed something to wear during GDR training when conditions were messy.
I've had my eye on the Speedcross for some time. They're a fairly legendary shoe: one that's been around a long time and that many runners speak highly of. I had a gift certificate to a local outdoors store and when I saw they had the Speedcross 6 in stock, I took advantage of the chance to try out the Speedcross without shelling out the full price.
From my very first run I found the Speedcross to offer truly exceptional grip on the trails, most noticeably on steep grades. I can't think of a better shoe for sub-ultra runs in wet and muddy conditions, provided you're staying purely on soft surfaces.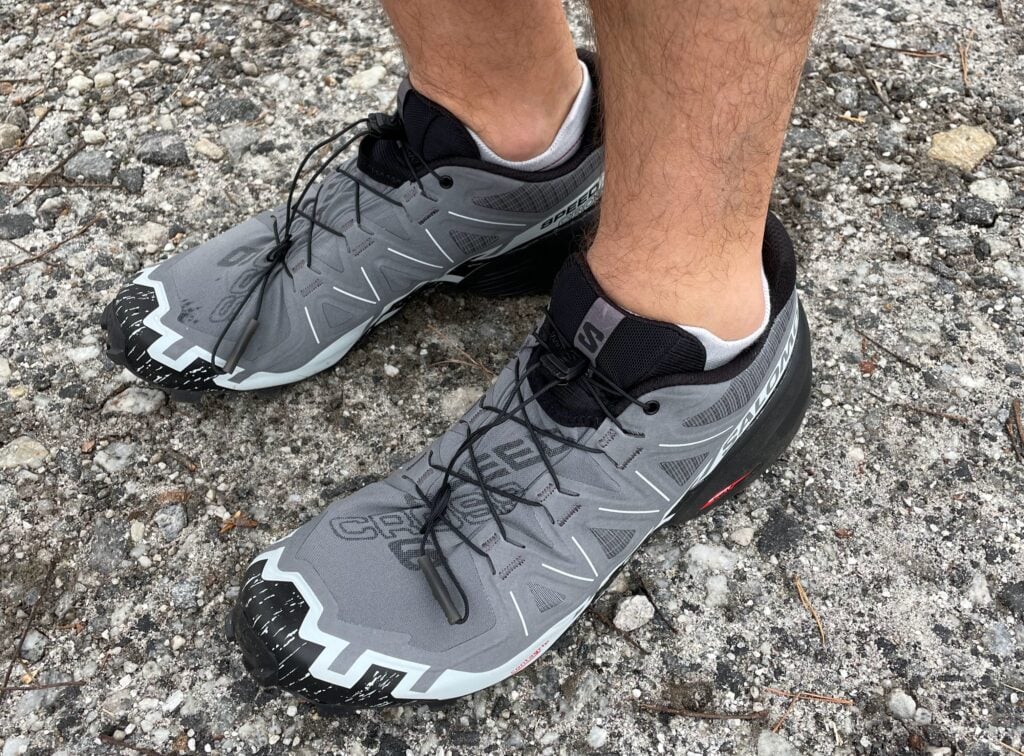 A Very Firm Ride
I have three pairs of trail shoes in my shoe rotation right now: a pair of Speedgoats, the Nike Pegasus Trail 3, and the Speedcross. Both the Speedgoats and Nikes are soft, cushioned shoes. The Speedcross is the polar opposite. Where the Speedgoats and Nikes have a soft midsole, the Speedcross midsole is very firm – likely the firmest midsole of any running shoe I've ever worn.
The firmness makes the Speedcross feel very precise and locked-in, but paired with the huge lugs on the outsole that firmness means that the Speedcross are flat out harsh on hard surfaces.
For me personally, the Speedcross feel unstable on large gravel and I feel like I'm at risk of turning an ankle (where a softer midsole absorbs the irregularities of large gravel). On asphalt they really do feel like running in soccer cleats, and I say this as someone who played soccer all through high school and college.
The Speedcross are not designed to be used on hard surfaces and my limited experience running on hard surfaces affirms that I won't be logging any meaningful mileage in the Speedcross on gravel, concrete, asphalt, or even hard-packed dirt.
The Perfect Shoe for Messy Conditions, and Nothing Else
This review may come across as negative, but I hope that isn't the case. I actually love my Speedcross, I'm just selective about when I wear them. For me, the Speedcross are perfect for runs up to 20 miles where I'll be spending all, or nearly all, of my time on soft surfaces, especially if the ground is wet. Under those conditions, the Speedcross are a joy to run in.