As I mentioned in my last post, I'm a bit antsy waiting for Saturday when I'll take on the Sky to Summit 50k. While I wait, I plan, incessantly, and today I'm going to share my plan.
As an aside, I realize that literally no one cares about my plan. That's ok. This blog exists for me, not for you. Feel free to skip this post if you don't want to read about trail running shoes and hydration vests.
Footwear
What I really want for this race is a pair of Altra Olympus. However, I have two other pairs of perfectly good trail running shoes and I'm not willing to shell out $170 until I actually need to. So I'll be running this race in my Hoka One One Challenger ATR 5s.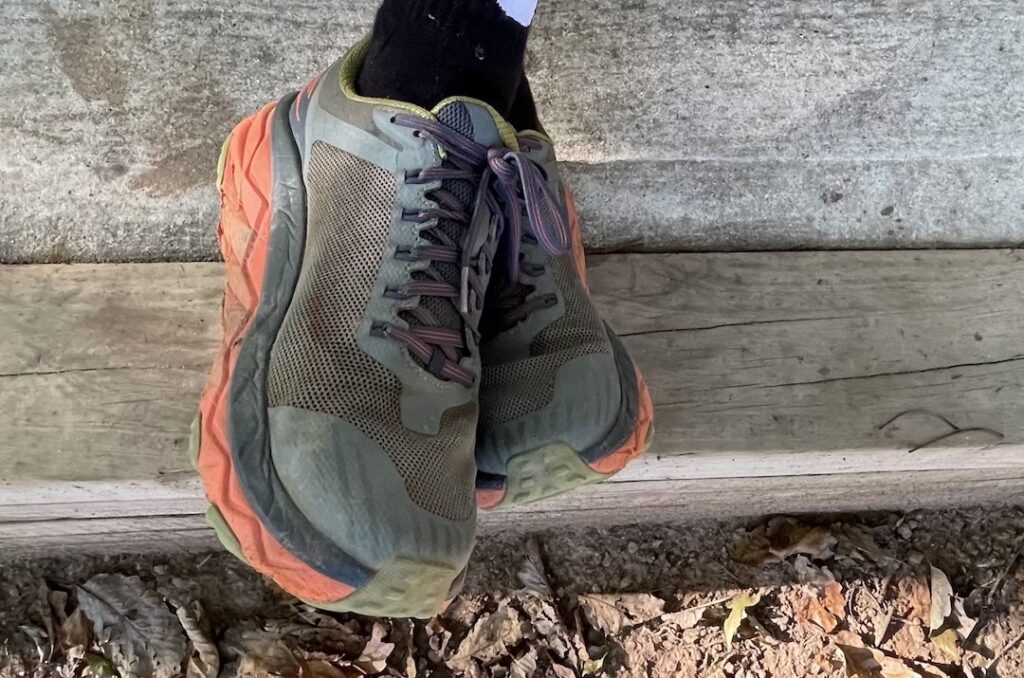 I bought the Hokas back in April 2021 and have put about 400 mostly trail miles on them. They're a mixed bag.
On one hand, I've found them to be very stable on uneven terrain and to provide solid protection and adequate cushioning on ultra-distance runs. On the other hand, recently the ball of my left foot has started to blister when I wear these shoes for more than about 5 miles. I've tried a few different strategies to address the issue with mixed success. I have some ideas about how to deal with this issue, but I'd be lying if I said I was confident in my footwear going into this race. The problem is that I don't have a good alternative. My only other trail-worthy shoes are my Altra Lone Peaks, which I love but which only give me enough padding for runs up to about 15 miles.
I plan to start the race running in a pair of crew length socks of unknown brand that I earned as swag for participating in a recent virtual event (the Yeti Ultra 12 Hour Challenge). I also plan to start the race with a large piece of moleskin protecting the ball of my left foot. However, given the blister issues I've had with these shoes recently, I plan to carry two pairs of spare socks, additional moleskin, and Squirrel's Nut Butter so I can problem solve on the fly if I need to.
Clothes
It's supposed to be pretty cold on Saturday. Up on Rabun Bald it's expected to be cold; solidly in the 30's. However, I also know I'll warm up quickly while moving, and I don't plan to hang around the summit of Rabun Bald for any significant amount of time. Thankfully, while it'll be chilly, there's no precipitation in the forecast.
I plan to wear a t-shirt, light hoodie, gloves, thin beanie, shorts, and compression shorts. The hoodie, hat, and gloves I'll be able to jam into my hydration vest if I get to a point where I don't need them.
Other Gear
I have a cheap hydration vest I bought off of Amazon a while back. It'll be loaded with two 8 ounce flasks and a 2 liter bladder.
I've been debating whether or not to carry trekking poles and have decided that I will. Trekking poles can be more trouble than they're worth if you end up not using them. However, given how much climbing I'll be doing on Saturday, I think they'll be worth the added weight and minor nuisance factor. The deciding factor for me is the knee issue I suffered back in September. If my knee acts up, those trekking poles may be the difference between a slow hike to the finish and a DNF ("did not finish"). The other benefit to the trekking poles is that they will probably slow me down just a little. That might sound like a bad thing, but in a race that will test my limits, and one where I'm coming off a recent injury, slowing down just a little is probably a very good thing.
The race will start at 6 AM and it will be dark for the first hour, so I'll be carrying a small headlamp. In addition, the race director has suggested carrying an emergency blanket given the cold temps and the remoteness of much of the race, so I'll have one stuffed in my hydration vest.
Hydration and Nutrition
I don't expect 31 miles in cool temperatures to pose a major hydration challenge. However, nutrition will be something I need to pay attention to given the amount of climbing involved in this race.
I'll be wearing my hydration vest and I plan to carry about a liter of water and 16 ounces of Liquid IV (electrolyte drink). I don't really drink soft drinks but I've found a small cup of Coke to be a nice energy boost during an ultra, so I do plan to help myself to a swallow of a caffeinated soft drink at each aid station. That should be plenty of hydration but if I do find myself running low on fluids I can always refill the bladder in my hydration vest at an aid station.
I'll carry a couple of granola bars in my vest and I'll probably also grab some calories at each aid station in the form of a handful of m&m's or small bag of pretzels. My strategy with nutrition will be to consume at least a few bites of something once per hour and to make sure to take in a mix of sugar and salt. That should be sufficient for an effort I anticipate will take between 6 and 7 hours to complete.
Slow and Steady Finishes the Race
The game plan for Saturday is to take it easy, enjoy the journey, listen to my body, and focus on having a good time rather than meeting any specific time target. This is a race I've been looking forward to for a long time. I can scarcely believe it's almost here and can't wait to get going.