Sky to Summit proved to be as hard and as beautiful as advertised. The climbs and descents were long and steep. The single-track trails were often rocky, rooty, narrow, muddy, and made more treacherous by a deep carpet of recently-fallen leaves. The stunning mountain views, rhododendron tunnels, creek crossings, and waterfalls were worth the price of admission.
Sky to Summit sets the standard. It's hard enough to test the mettle of any ultra runner, yet short enough that most runners who start the race are able to finish under the 11-hour cutoff. This year's event was very well-organized, with plentiful well-stocked aid-stations, and lucky to coincide with absolutely perfect weather.
How Did it Go?
My Sky to Summit race was a bit of mixed bag. Some good, some bad. Overall, it was a good day and I'm glad I ran the race, but it wasn't a perfect day.
I'll explain both the good and the bad starting with the good.
S2S: The Good
It's hard to overstate how gorgeous the day was. The featured picture and pictures below can't do justice to how stunningly beautiful this part of the country is this time of the year. To top it off, the weather was perfect. Clear and sunny, cool but not too cold.
The Sky to Summit Course is Gorgeous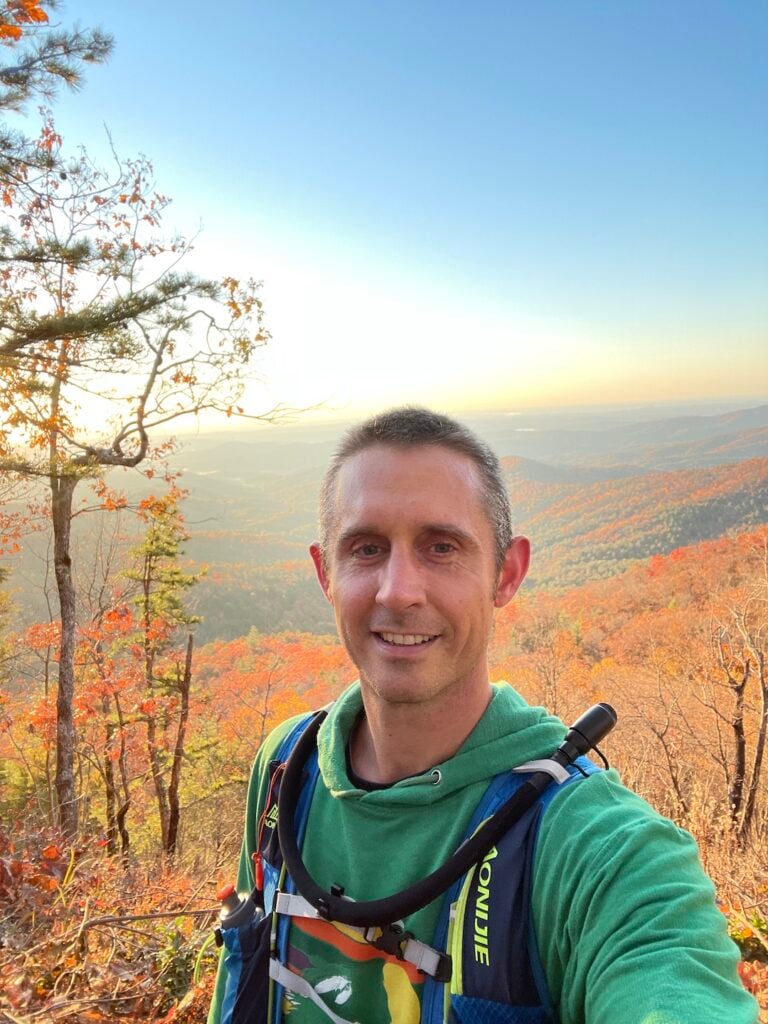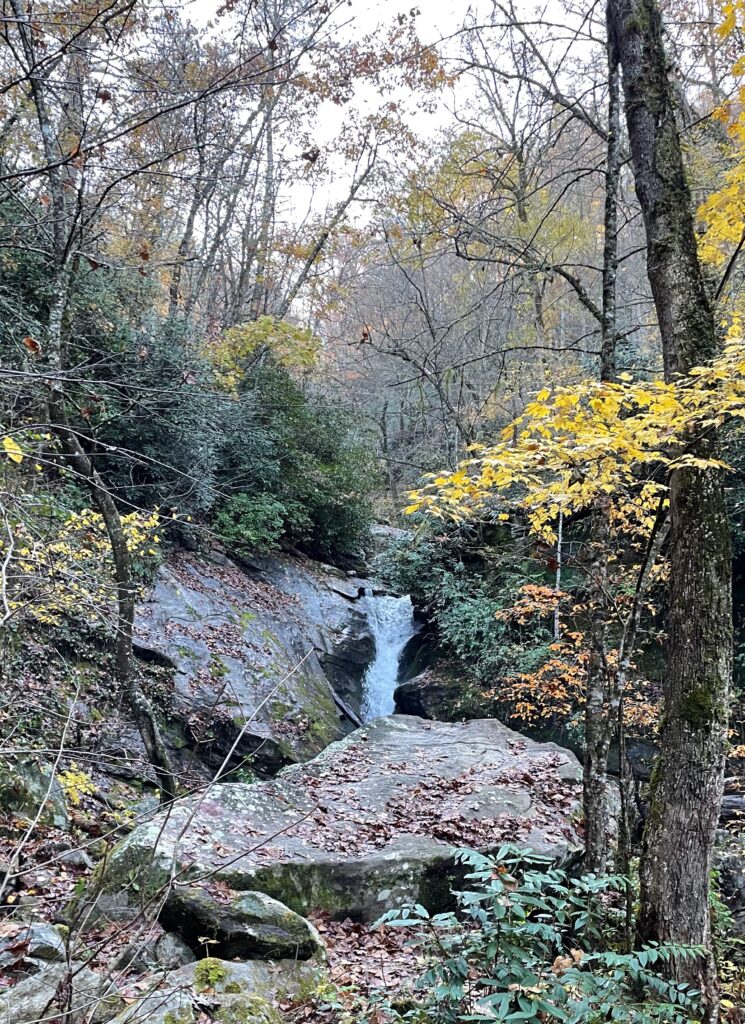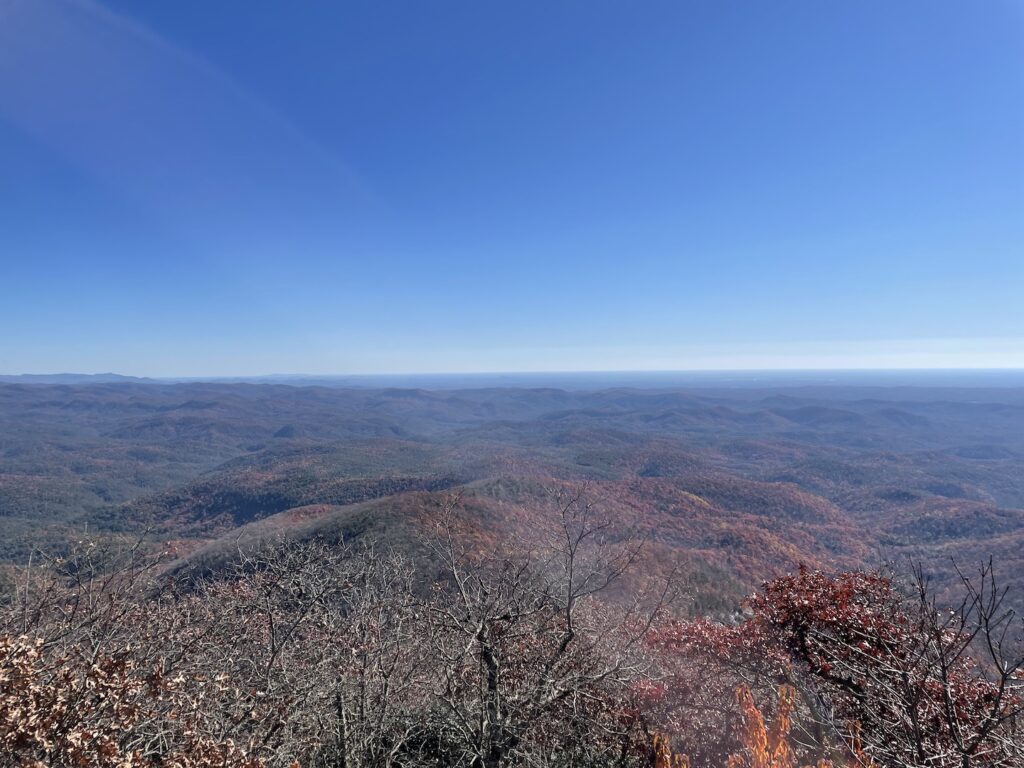 Doing Hard Things Is It's Own Reward
This was my first true mountain ultra. I've run 50k's before: this year I ran three different races that were at least 50k (Snowbird Challenge, Lady of the Lake, and virtual race called the Yeti 12 Hour Ultra Challenge) as well as three additional training runs that were 50k or longer. Sky to Summit is different. There were about 200 other runners out there in the woods, the trails were truly remote, and the elevation change was relentless. I've run 50k before, but Sky to Summit was next level in every way: atmosphere, challenge, and natural beauty. It's rewarding to finish a race that has the reputation of Sky to Summit. You don't just stand up off your couch and go finish Sky to Summit. You just won't make it. There's something intrinsically satisfying about completing an event that requires training and dedication.
Overall, My Body Handled the Punishment Well
While I didn't come through Sky to Summit completely physically unscathed (more on that in a moment), on several points my body held up quite well:
I was worried about my feet blistering and they didn't. I think I've found a footwear strategy that will help me avoid or minimize blistering in the future.
On some ultra-length runs I've ended up with really sore feet and that didn't happen yesterday. My feet really felt great all day, all the way to the finish. As far as my feet were concerned, I was good to go for many additional miles.
My right knee, which I injured seven weeks ago, felt great all day.
Two or three times I had some issues with my hamstrings beginning to cramp up and managed to resolve those issues with a combination of nutrition and hydration. I'm really pleased with how my body bounced back.
With one notable exception (more on that in a moment), I really felt great physically. Absent one glaring issue, I finished the race with gas in the tank.
S2S: The Bad
It was a beautiful day, gorgeous scenery, rewarding, and affirming, but it wasn't a perfect day. There are at least three things I wish had gone differently.
I Wish I Had Gone Out Fast
A well-known refrain in the ultra running community is "don't go out fast." The idea is that it's easy to get amped up to start a race, overdo it in the first few miles, expend too much energy, and end up feeling miserable and running much slower overall because you went out too fast.
However, what I learned this weekend is that it's also possible to go out too slow. This is particularly true if large swaths of the race course consist of single-track trail where it's difficult if not impossible to pass large groups of runners moving at a slower pace.
I went out too slow. As a result, by the time I got to the single-track trail I was stuck behind a long line of runners moving at a pace much slower than I wanted to move. Overall, I'd guess going out too slow added 15-20 minutes to my time over the course of the first 4 miles.
I Wish My Left Knee Had Held Up
Going into this race I was really worried about my right knee. I hurt my right knee seven weeks ago and only got back to running double-digit distances two weeks ago. I was really worried I would re-aggravate the IT band in my right knee.
That didn't happen. My right knee felt strong all day. However, the IT band in my left knee wasn't so agreeable.
My left knee started talking a little during an extended downhill section somewhere between the 8 and 10 mile points but calmed down and was happy for the next several miles. However, just past the midpoint of the race the course descends from Rabun Bald, dropping over two-thousand feet in about 3 miles.
That descent is brutal: incredibly steep and technical. By the time I reached the bottom of that steep downhill section my left knee was angry. I did very little running during the last 9 miles of the race as a result. My legs and lungs still had some gas in the tank, but my left knee wouldn't let me use it.
I'm writing this race report on Sunday night. Everything hurts today. So it's hard to know how much my knee still genuinely hurts and how much it's just the same soreness affecting every muscle between my hip and ankle.
I think the injury to my left knee is the same injury as the injury to my right knee seven weeks ago. The good news (and the bad news) is that I know how to rehab an angry IT band.
I Wish I Hadn't Added Two Bonus Miles to My Race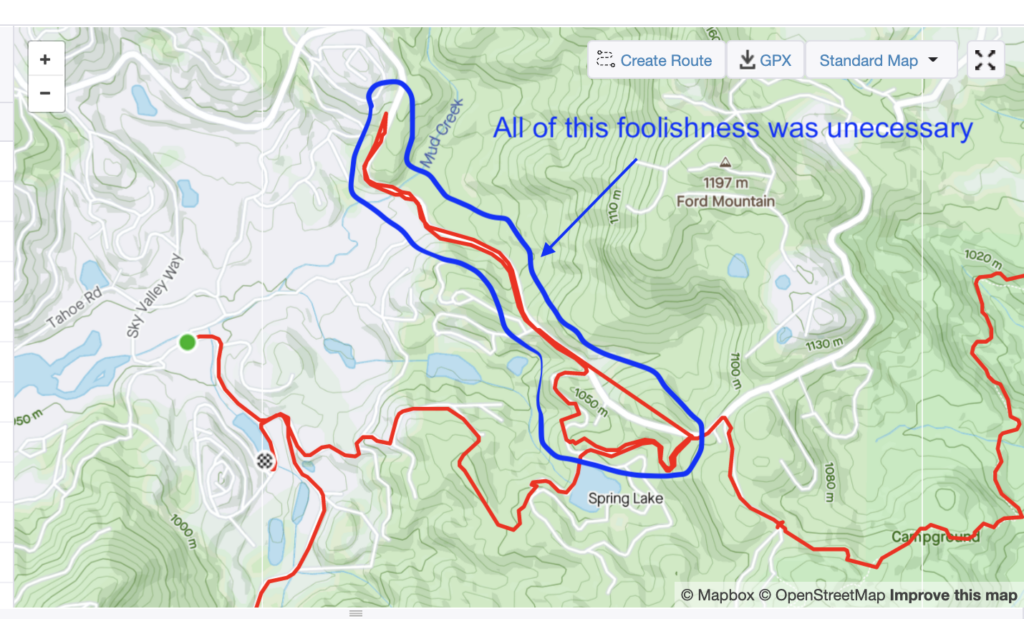 Just one mile from the finish line I missed a turn.
I wasn't alone in my foolishness. There were five of us running close together who blasted right past a left-hand turn and ended up adding two miles to our races. I've since heard of at least two other folks who missed the same turn.
Thankfully, one of the other runners who missed the turn had the race director's phone number and when it became clear that something had gone wrong they called the RD who confirmed that we were off-course. We back-tracked most of the way back to where we had gone off-track, the last quarter mile or so riding in a vehicle sent by the RD to get us back on course.
The turn we missed was marked. It wasn't abundantly well marked, but it was marked. Missing the turn was reasonable, especially given the mental fatigue that sets in after being out on the course for nearly 8 hours. What wasn't reasonable was how long it took me to realize something was wrong, and while I do think the turn could have been better marked I also think that I should have realized something was wrong and backtracked much sooner than I did.
Looking at my GPS results, this two mile misadventure added a full 30 minutes to my race.
Would I Do it Again?
Yes. Actually, I will do it again.
This is a fantastic event. It's hard, beautiful, offers a great race atmosphere, and rewarding.
I believe that if I'm healthy, better prepared for the elevation, get out to a faster start, and avoid making wrong turns I can drop a full hour from my time next year. So not only would I do it again, I'm planning on it.
Footnote: For any who care, my official time was 8:31:21. I placed 103 out of 178 who finished (plus 16 DNFs). My Strava results are also public.