Today I went for a run in Clarkesville. I ran a similar course to the one I ran last week, meandering in and out of the various neighborhoods that surround downtown Clarkesville.
I ended up logging 7.75 miles with an average pace of 10:15 per mile.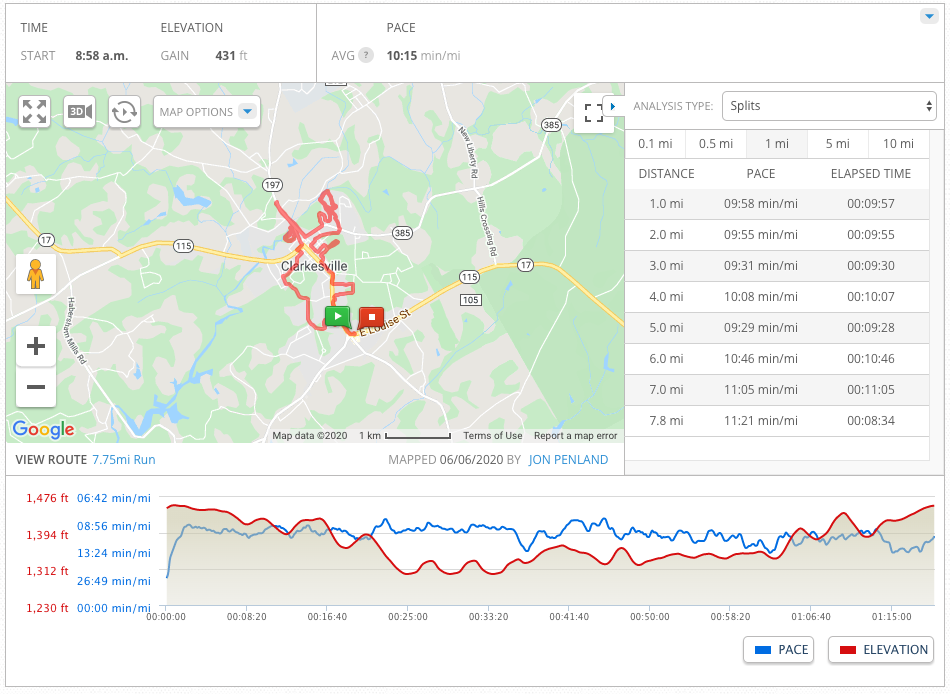 I didn't get started as early today as I'd planned. To be fair, I didn't necessarily plan to run this morning. The plan was just to sleep until I woke up. If that meant I was in the position to start running no later than 8:30, then I'd run today. If not, I'd sleep in today, and then set an alarm and go running tomorrow.
Well the dogs woke me up right at 8 and by 8:30 I had walked them, fed them, and was ready to walk out the door. This was a little later than I wanted to get started–I really wanted to be pounding the pavement no later than 8:30–but it was ok. So I loaded into the van, backed out of the garage, and drove to my starting point in Clarkesville–about a 10 minute drive.
The thing you need to know is that we don't wear shoes inside our house. Our shoes sit in a basket by the back door. So what I usually do when I go running is grab my shoes on the way out the door, toss them in the van which is parked inside my garage, and then put them on when I get wherever it is I plan to run.
Well, I arrived at the Old Clarkesville Mill, where I planned to begin my run, and realized I hadn't grabbed my shoes on the way out the door.
At this point though, I was committed. I'd already gotten dressed to run and made the mental commitment. So I drove home, grabbed my shoes, and drove back out, this time starting from a slightly closer destination to save a few minutes, the Ingles parking lot.
The net result of starting late and forgetting my shoes was that I didn't actually start running until 9 AM–a critical delay on a warm day which meant it had warmed up several degrees.
I think you can probably see where I'm going with this. It was considerably warmer this AM than it has been on any of my prior runs so far this year and I really felt the added heat and humidity.
At around the 5 mile mark, I was done. I had really hoped to run between 8-9 miles today, but just look at my pace after mile 5 in that screenshot. I went from sub 10-minute miles to a pace that was over 11 minutes a mile. I was done, and it was the heat and humidity that did me in.
Now, the truth is that in the shade it really wasn't bad, but my body simply isn't acclimated to running in warm weather and I could not hang today.
Oh well. A year ago, if you had told me that in June of 2020 I'd run 8 miles, finish without injury, and my legs would feel great, I'd probably not have believed you. So I'm still chalking today up as a win. But next week, I'm going to start an hour earlier, remember my shoes on the way out the door, and see if my legs can churn out 9 miles.
Featured image by lucas Favre on Unsplash