I've written a new chapter in my personal book of saying one thing and then doing the exact opposite. A few days ago, I noted that my runs generally slow down over the winter months due to the colder temperatures. Then I promptly turned around and set a half marathon personal record this past Sunday.
In my defense, the main reason I tend to run slower in the winter is that the colder temperatures make breathing through my mouth hard (and painful, at times) and I wrote that prior post reflecting on a run where it was 26 degrees Fahrenheit (about -3 Celsius). However, this past Sunday it was a full 12 degrees warmer at 38 degrees Fahrenheit (about 3 Celsius) which isn't that far from my ideal running temperature of 45-50 degrees Fahrenheit (7-10 Celsius).
The Idea is Born
Anyway, on Saturday this past weekend my legs felt like they had some bounce to them. I didn't run on Saturday as my kids had sporting events all day long, but I just felt energetic and strong.
Also, I had recently been thinking to myself that a half-marathon PR was within reach right now. My prior PR was about 1:56:06, meaning an average pace of about 8:50 per mile (about 5:30 min per km). I thought that on the right day I could go faster, by perhaps 5 to 15 seconds per mile.
I already planned on running between 10 and 15 miles (16-24 km) on Sunday, and when my legs felt strong on Saturday, the idea came together.
Trying for a Personal Best
I got up on Sunday morning and headed to downtown Clarkesville for my run. Every location within 20 miles of my house is hilly and Clarkesville is no exception. However, Clarkesville is less hilly than my other nearby running options and I knew I could get in a half marathon distance with minimal looping or doubling back.
I started my run moving fast (fast for me anyway). I couldn't be sure my legs had the stamina for a half marathon PR but I knew if I started slow I'd make the job that much harder. I felt strong throughout this run and managed to maintain roughly an 8:30 pace (5:17 per km) as I moved through the miles. Once I reached the 8 mile point and had basically 5 miles to go, I began to feel that a PR was a real possibility if I could just hold on.
At the 10 mile point I had been running for 1:25:00. With a 5k left to go, breaking 1:50:00 felt possible. I'd need to run a 25 minute 5k – averaging about 8:00 per mile (about 5:00 per km), but if I could do that I'd break 1:50:00. Considering that my 5k PR is under 22 minutes, this felt possible but certainly not a given.
Alas, breaking 1:50:00 was not to be. I didn't plan my route very well and the last three miles included a lot of uphill running and I wasn't able to maintain the pace I needed to break the 1:50:00 mark.
However, I still did manage to set a PR. In the end, I covered 13.1 miles (about 21 km) in 1:51:16. That means I improved my half-marathon personal record by 4:50, by maintaining an average of 8:29 per mile (5:16 per km).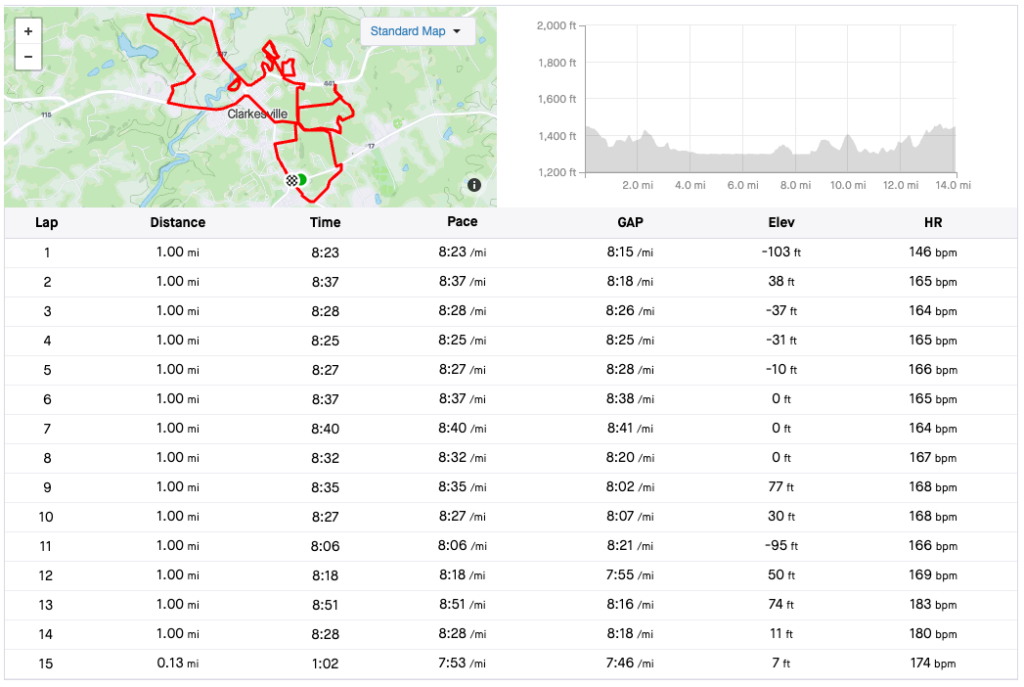 I do still feel that I have room to improve on this PR. Under perfect conditions, with a little more targeted preparation and following a route with a little less climbing, I think shaving another 3 or 4 minutes off this record is possible at my current fitness level. We'll see how my training goes over the next few months but I can imagine taking another stab at a half-marathon PR in April or May.
Gear and Other Details
Mostly for my own recollection, here are some additional details related to this run.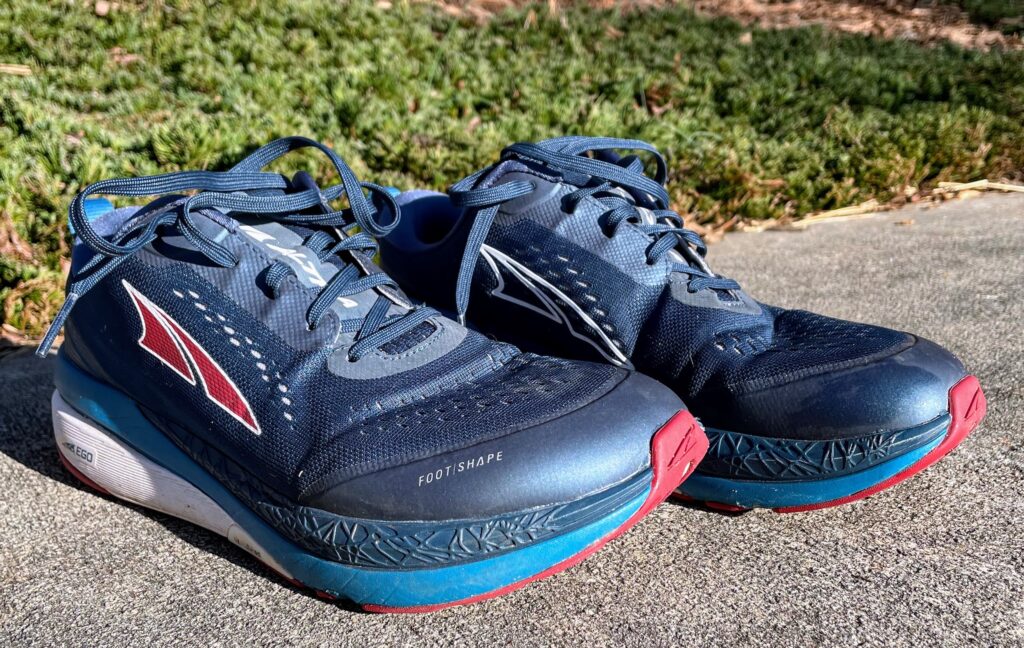 I wore my Altra Paradigm 5's. I had to stop to tighten my left shoe during the first mile. These are great shoes but the laces are tricky to get just right.
I ran in my Telaleo (Amazon brand for a Chinese clothing company) shorts because they have the cool phone pocket and I wanted to carry my phone.
I also wore a hoodie and gloves to keep warm, and quickly became too warm and pulled up the sleeves of the hoodie.
I ran several loops at the Clarkesville greenway thinking the flat walking path would help me log a couple of faster miles. I was wrong, I had a harder time maintaining the same 8:30 pace on the crushed rocked surface and actually slowed down a bit.