Among my goals for 2021 is to run a trail 50k. With that goal in mind, for the last several weeks I've been pushing up the distance on my long runs. This weekend I planned to run 15 slow miles at the Lake Russell Wildlife Management Area.
Over the last couple of months Lake Russell WMA has become my favorite running location. There are dozens of miles of official and unofficial trails and forest service roads crisscrossing the 17,000+ acres the make up Lake Russell WMA. Most of the time, there is very little happening out in those woods and more than once I've finished a long run without seeing a single other person.
Today's Planned Route
The plan for today's run was to start at the base of the trail up Currahee Mountain. I'd take the first service road on the right, Stone Grave Ridge Road and stay on that road until it ended on Guard Camp / Sellers Road. I'd take a right on Sellers and find the trailhead for the Broad River Trail. I'd run the entirety of the Broad River Trail, ending back on Guard Camp / Sellers Road. From there I'd take a left, follow Guard Camp to Lathem Rd and follow Lathem until it turned into Pear Orchard trail. Follow Pear Orchard Loop to Pear Orchard Drive. And follow it until it dead-ended back into Currahee Mtn / Col. Robert F Sink Memorial Trail, which I'd follow back to my van.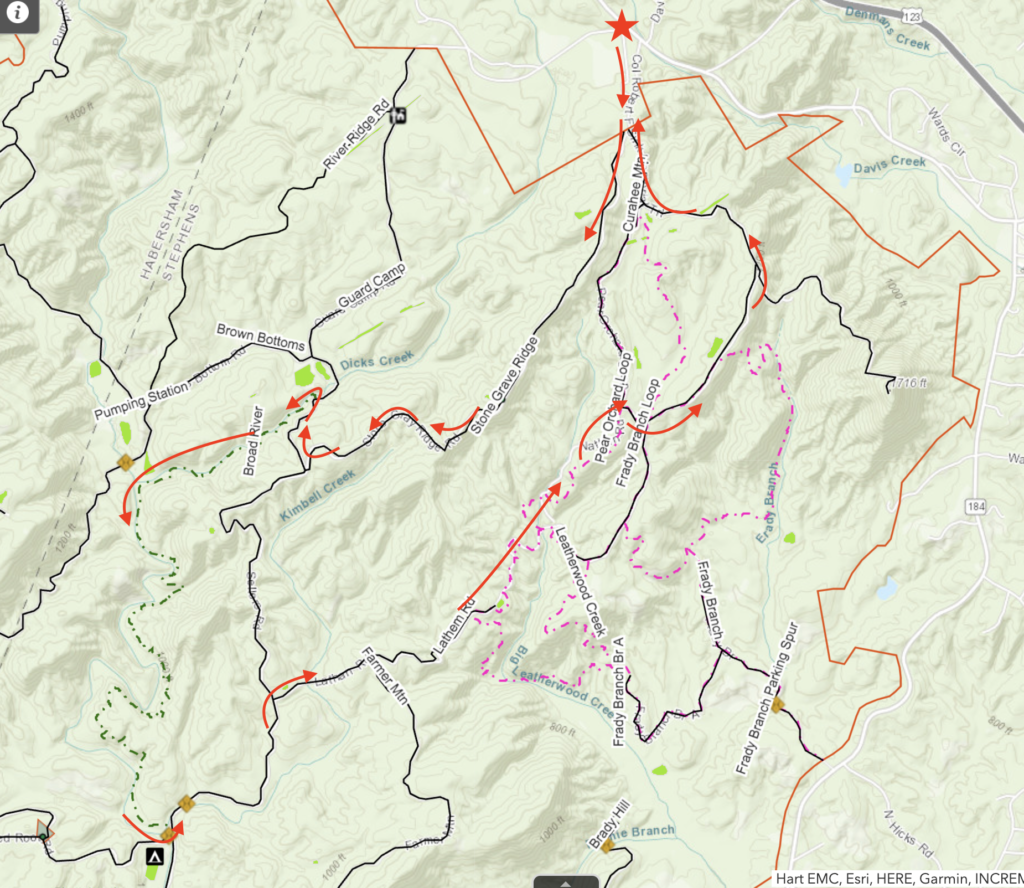 Stone Grave Ridge to Broad River Trail
Most of Stone Grave Ridge road is a forest service road that is closed to traffic. It's a fantastic place to run. While it is technically passable in a vehicle, you'd need four-wheel drive and good clearance to make it down this road in a vehicle as it carries only the slightest amount of gravel and is primarily grass, leaves, and dirt.
Lots of mountain bikes use Stone Grave Ridge road. I know this based on the visual evidence, not because I've ever actually encountered a mountain bike while running on this road.
The road earns its name from a memorial placed at what appears to be the highest point on the trail.
The latter quarter (or so) of Stone Grave Ridge road is open to traffic and quickly transitions from leaves, earth, and grass to packed gravel and mud. Not quite as nice, but given the scenery, not a bad experience.
Broad River Trail
Stone Grave Ridge road dead-ends into Guard Camp / Sellers Rd, a heavily-trafficked road of hard-packed gravel. From there, it's a quick half mile (or so) to the trail head for Broad River Trail.
I had never seen the entirety of Broad River Trail before. I had hiked about a mile of it before, but given that it's about 4 miles long, most of this trail was new to me.
Running this trail was a real mixed bag. One one hand, there was a lot to like!
I never saw even a single person while on this four mile single-track trail.
Some parts of the trail broaden out and provide fantastic views.
I found a super clean deer skull along the trail, no doubt picked clean by a combination of coyotes, vultures, and other local scavengers. Some might put this find in the "con" column but I appreciated being reminded of the harsh realities of the environment I was passing through.
On the other hand, what seems to be about half of this trail hugs the side of a steep slope along the Broad River. In these sections, the trail is only about 8 inches wide and badly slanted. Pounding across a mile or two at a constant side-to-side slope really took a heavy toll on my uphill leg forcing me to walk sections that were basically flat in terms of vertical elevation due to the severe slope of the trail. I also developed blisters on my downhill foot during this section. Further, there were two or three large blowdowns that had completely taken out the trail and which required scrambling on all fours to get around.
I'm not sure I'll ever run Broad River Trail again. If I do, it will be in proper trail running shoes (not the road shoes I ran in today) and I'll anticipate walking most of the slanted section of the trail.
Guard Camp to Lathem
Broad River Trail dead-ends back into Guard Camp road. From that point back up to Lathem is a very nice run through the Georgia foothills. The road follows Kimbell Creek and there are sections of mature pine along the creek that are fantastic to experience in the mid-morning sun.
Lathem
Lathem begins as a public-access road, but fairly quickly the road closes and further traffic is only possible on foot, on bike, or on horseback. The point at which the road closes to vehicles looks to be a fantastic flat camping spot right along Kimbell Creek surrounded by large pine trees. I believe this is also the spot that the historical Stone Grave Ridge road met Lathem (the current version of Stone Grave Ridge veers to the right near the end of the road and leaves the historical path).
Only a relatively short section of Lathem is closed to vehicles. Where Lathem meets Farmer Mountain road the road reopens to traffic coming from Farmer Mountain. The section of Lathem from that point to the wildlife opening at the end of the road is open to vehicles as well as hikers, runners, bikers, and horses.
Pear Orchard Trail
The section of Pear Orchard trail from the end of Lathem until it hits Pear Orchard Loop road is the funnest section of trail I've found so far in Lake Russell WMA. There are several extended sections of wide smooth trail that pass through tall pine trees which have blessed the trail with a soft coating of fallen pine needles. There's also a creek crossing and plenty of elevation change to keep things interesting.
Pear Orchard Loop Road to Col Robert F Sink Memorial Trail
Pear Orchard Trail ends at Pear Orchard Loop Road. I followed the road to the right, over one last creek crossing, took a left and followed the road until it dead-ended at Robert F Sink Memorial Trail. Pear Orchard Loop Road is a moderately trafficked forest service road that is popular with horseback riders (or, at least, I've personally seen more horses on Pear Orchard Loop than anywhere else).
Robert F Sink Memorial trail is the road that leads to the top of Currahee, and I suspect is therefore the busiest road in all of the WMA. It's also a hard-packed gravel road. Not a fantastic running surface, certainly not a trail, but the views are great and it is something of a legendary path in local memory.
How'd It Go?
Fantastic. The coursed I'd mapped out ended up coming in right at 14 miles so when I got back to the van I headed over to the water tower next to Patterson Pump Company and then backtracked to the parking lot at the base of Col Robert F Sink Memorial Trail. When all was said and done I'd logged just over 15 miles in just under 3 hours. My average pace was 11:13 per mile, which isn't bad when you take into account that the total elevation change was more than a mile.